Alex Draws
Aug 17
Rough sketch of Sailor Moon because I've never drawn her before.
Jul 08
[video]
May 30
[video]
May 10
Before he was a handsome bishounen boy, Link was a cute little gnome-ish guy. I miss that.
Quickie sketch of Patricia from Mighty Switch Force
May 09
King Piccolo's got nerves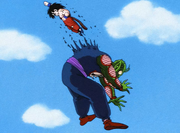 BUT HE AIN'T GOT GUTS
(Source: duvete, via potatofarmgirl)
Apr 30
HEY you know that adorable show Baman Piderman made by those adorable people Alex and Lindsay Small-Butera?  DID YOU EVER WANT TO SEE MORE EPISODES??  WELL YOU'RE IN LUCK.  

The kickstarter to fund more episodes is LIVE!!

There are tons of cool prizes and content and of course the promise of brand spankin new episodes.  THROW YOUR DOLLARS AT IT!!

here's a little gif I animated to show my support!
Reblogging because cute
Do you like Baman Piderman? Do you want more? Did you know you can make that happen? ON KICKSTARTER? 
https://www.kickstarter.com/projects/1523165009/baman-piderman-make-da-show


Lindsay and Alex are wonderful artists and even better friends. They've been incredibly generous to me on a personal level and I really love them for it. I think you should help them make fantastic cartoons!
It is with great pleasure and palpable nerves that we announce our kickstarter to fund the final five episodes of Baman Piderman!

Thank you, as always, for all the incredible support. We're humbled and forever giddy with just how many people like our cartoon.

Lot's of love,

Lindsay and Alex
(via itscarororo)
Apr 25
Anonymous said: Are people allowed to use your art without credit because there is some guy on a website I go on who uses one of your animations and has cropped out your tumblr URL/credit
No one is ever allowed to use art without the artist's credit unless the artist says so. Not ever. This happens to us all the time and keeps happening and it's ridiculous. 
Thanks for the alert, this has happened to me about three dozen times on particular GIFs. It's kinda impossible to fight. If someone wants to use my art and asks me? Sure! If they keep me credited as the source? Absolutely! Post wherever! Art is done to be seen and shared and make people happy. I make literally no money on my web art, and I honestly have no goals to. But it's nice to be credited.
Oh well.